Embrace®

Gestational Kit
An easy, accurate, safe system that
talks you through the testing process.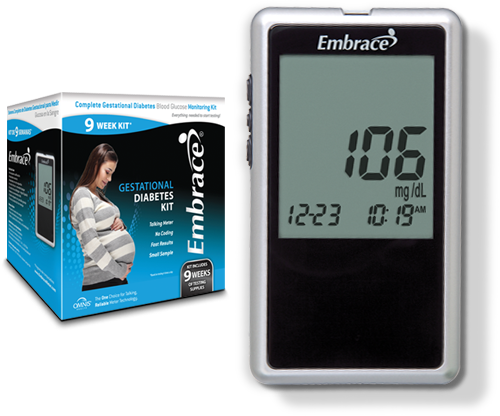 EmbraceEVO™

Gestational Kit
Includes the feature-rich, no coding EmbraceEVO™
meter which delivers fast, accurate results.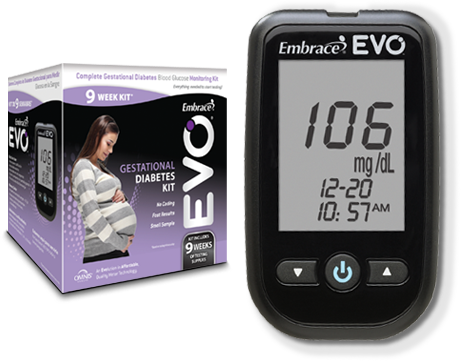 Both Kits Include:
Blood glucose meter, 250 ct. test strips, Lancing device, 250 ct. Lancets, 300 ct. Alcohol pads, Control solution, Deluxe carrying case, Self-test logbook, English/Spanish instructions, Quick reference guide, Gestational diabetes informational brochure
Data Management with the
Embrace Better Care Program
The Embrace Better Care Program is a proactive care program from Omnis Health designed to help your patients take better care of their diabetes.
The Embrace Better Care Program allows patients to share test result data with their healthcare professional through Health2Sync. With a direct link to Health2Sync through the EmbraceIt app, patients can manually enter their test results for their healthcare professional to review.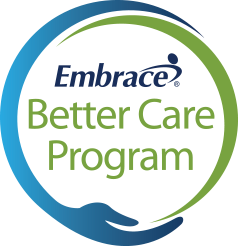 The EmbraceIt Mobile App
The EmbraceIt mobile app is currently compatible with iPhone, iPad and Android devices.
To download the free app, visit the iTunes or Google Play app stores. If you do not have a compatible smart phone or mobile device, you can download the PC portal for your desktop/laptop PC. You can view data uploaded via the PC Portal by signing into the Health2Sync web app.
For Windows 8/8.1 and Windows 10 customers, click here to download updated drivers.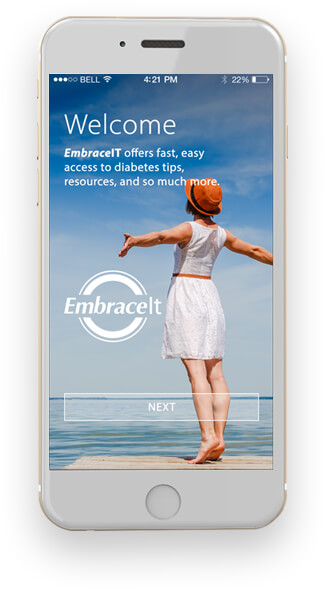 Where To Buy
Embrace® brand Gestational Diabetes Kits are available at some local retailers or can be purchased online at gestational.omnishealth.com.
For assistance in locating Embrace Gestational Diabetes Kits, call 877-979-5454
Order A Sample
What better way to decide if you like the meter than to try it out?
CLICK HERE to fill out a form, and we will send a meter right to your office for you to try.
Contact Us
Call, email, or send us a letter in the mail. We're committed to helping you get the answers you need.
PHONE
Customer Support
1-877-979-5454
EMAIL
This email address is being protected from spambots. You need JavaScript enabled to view it.
MAIL
505 Airpark Center Drive
Nashville, TN 37217